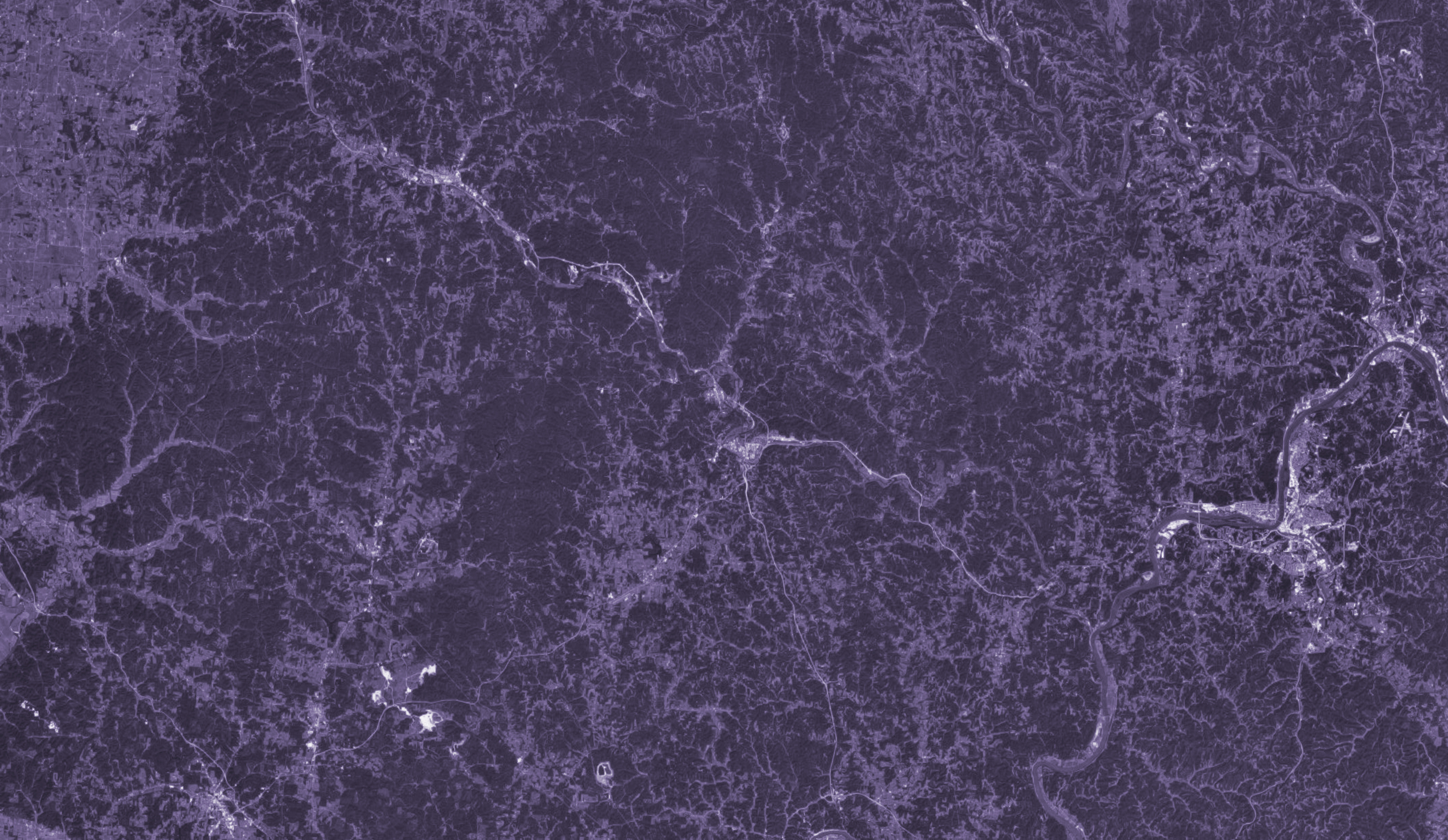 A Generation in Turmoil
Satellite Image from Google Earth
Maybe, Macey Brandeberry wonders, her mother's downward spiral could have begun where many find their solutions: a doctor's appointment.
All the vitriolic words exchanged, the violent arguments, the years-long turmoil between one family member in crisis and the rest who sought to help her — those moments had to start somewhere.
"It was just hard. It was really sometimes very unhappy just to be home," Brandeberry, a second-year medical student on Ohio University's Dublin campus, said.
One question, of course, can churn a maelstrom of "maybe." No problem has an easy beginning, nor an easy end.
That's what Brandeberry explained to first-year medical students via video chat during OU's Heritage College of Osteopathic Medicine Health Policy Day in February. The theme was "healing Ohio's opioid crisis," and she was trying to serve as a relatable face to an immeasurable epidemic.
Her relatability was two-pronged: here was a student, grappling with the complexities of knowing whether to prescribe or not prescribe sometimes helpful medication to a patient who says he or she is in pain, in addition to her mother's own addiction to opioid painkillers.
Abby Day
The latter wasn't something she was particularly used to talking about.
Bringing it up, she originally thought, might garner unwanted sympathy or attention, or imply that her successes were a product of her mother's addiction. Brandeberry, who earned her undergraduate degree in biology from the University of Findlay after growing up in Fostoria, said her career in medicine has been a way to accomplish something with her life and to have an impact on others.
Maybe talking about her mother's addiction could make a difference.
Maybe there were hundreds of thousands of people like Brandeberry out there: the sons and daughters of addicts, who deserved an answer.
A crisis in trauma
It only took a month on the job for Travis Boggs to come across a toddler intertwined in a parent's drug abuse and neglect.
That was in 2008. The alternative response caseworker with Athens County Children Services said that was his first glance at the severity of the opioid epidemic. A deputy with the sheriff's office stopped counting after more than 30 needles were discovered in the home. There were small amounts of heroin on the tables and countertops, and several knives were on the floor within the child's reach.
As a result of the ever-rising prevalence of addiction and overdose deaths, children have quickly become the invisible victims of the opioid epidemic, Catherine Hill, executive director of Athens County Children Services, said.
If that population isn't considered for the resources it needs now, the federal and state government will be faced with a generation devastated by an addiction crisis that wasn't their own.
And where there's addiction, there's often underlying trauma, Ron Luce said.
Some people just don't have hope, Luce, the executive director of the John W. Clem Recovery House in Athens County, said. Society lacks a sense of faith in the American Dream. People feel disposable.
Some of that is a result of trauma, and often, it breeds more. Without resources to address that trauma, we'll be in "absolute crisis," Luce said.
Luce first saw the intersection of opioid addiction and trauma through his role as a guardian ad litem for the Athens County Juvenile Court about five years ago, when he met children whose toys were sold for drug money or families that experienced generational addiction, poverty or sexual abuse.
He encountered the impact of trauma again when he became the executive director of the Clem House, where he and others provide help for men suffering from addiction in a residential setting.
Men came into his office, he said, and shared secrets they had held in for years. Some had been sexually abused by a family member. Others had grown up in poverty or with family members who also suffered from addiction.
"I don't think that people recognize that for many people who are addicted, it's not just the drugs or alcohol," Luce said, sitting within the blue walls of his office at the Clem House. "They are burying a world of pain and horror that exists in their past, and then there's the shame and guilt."
He has seen the effects of something called the Adverse Childhood Experiences Study carried out in real-time.
The ACE study assigns its users a score, based on the level of trauma they may have experienced — whether through abuse, neglect or household dysfunction — to determine what their future health determinants might be. One of those risks includes addiction to drugs or alcohol. Children who are assessed by mental health professionals are often evaluated for such experiences to determine the level of care they may need.
"Certainly, addiction of a parent for any substance is really traumatic for any children who are in a home," Hill said.
Now, children have higher needs than they used to, she said. Trauma can have a terrific impact on their lives, and they often have psychiatric or behavioral needs that need to be attended to.
There are factors that build resilience despite such experiences, though, such as love and encouragement from caregivers and family members, or access to education and financial help. Resources being available such as trauma-competent mental health services, campaigns that generate awareness and support for additional resources can help as well.
"A lot of these children and parents we work with, just knowing them and knowing what's on their ACE score, you can almost see what can happen if treatment isn't implemented right away," Boggs said.
Ensuring care
In 2015, approximately 33,000 Americans died from overdose deaths related to prescription or illicit opioid drugs, and it's estimated that millions more are suffering from substance abuse disorders relating to drugs.
Unquestionably, such addiction has contributed to the 11 percent increase of children in state custody within the past six years, Angela Sausser, executive director of the Public Children Services Association of Ohio, said. Athens County has seen a 23 percent increase of children in state custody.
Such children are not just entering foster care at higher rates — Athens County had 97 children in custody as of April 10, up from an average of 70 children in 2012 — they're entering at a younger age than was once typical and they're staying in foster care longer.
"I think we're going to have bigger problems down the line ... You either pay now or you pay later."

— Catherine Hill said of the level of funding for children services.
Too many children in Ohio just aren't able to safely return home to their natural parents, Hill said, and end up being cared for by family members. In other cases, the agency is awarded custody so a child can be placed with an adoptive family.
A survey from the Public Children Services Association of Ohio found that in 2015, nearly half of children taken into state custody had parents who were using drugs.
Such cases are necessitating higher costs for county agencies; Athens has experienced a 35 percent increase in costs since 2010.
Meanwhile, state funding to counties for children services agencies has dropped by 21 percent since 2008, despite an increase of children in custody. Nationally, Ohio is ranked last for the state's share of funding for children services agencies.
That's why Ohio Attorney General Mike DeWine's office awarded a $3.5 million grant to the association to be divided among 14 agencies in southern Ohio for a pilot program, which includes Athens.
The program will provide more resources for children services agencies to form care teams that will establish collaborative support for addicted parents and their children, modeled off a similar program in Kentucky.
If successful, DeWine said the program will be considered for statewide implementation.
"The idea would be to try to help the parents with their addiction problem, help their children recover from the trauma of living in a house where there's a drug-abusing parent, with the ultimate goal of getting the kid reunited with their parents at an earlier stage," DeWine said.
But those are the resources that are being allocated now. Those programs might have existed while Brandeberry — who was primarily cared for by her father — was growing up, but they were not well-advertised.
She hasn't spoken with her mother outside of a few texts and Facebook messages in the past few years. She has often considered whether her mother's addiction was a product of a previous traumatic experience or mental illness, too.
"I think we're going to have bigger problems down the line," Hill said of the level of funding for children services. "You either pay now or you pay later."
Starting with the mothers
Sue Meeks said the children and mothers affected by the opioid epidemic started as a slow trickle into her Family Navigator Program a few years ago, housed within HCOM. Then it became a flood.
Met with grandparents who were the primary caregivers for some of her youngest clients, she often asked "Where's Mom?" Their mothers, she was told, were increasingly addicted to drugs or in jail as a result.
The next steps she and her fellow nurse navigators took were not only about empathy and understanding a mother's addiction, but also the underlying causes for why she may have turned to drugs.
"Once people can understand that, there can be a bit more compassion," Meeks said. "It doesn't mean we support addiction, it means we understand how you may have gotten there."
It took a small, collaborative army to develop a novel approach that would involve high-risk mothers in non-judgmental, wraparound care. That team — communicating across a variety of resources outside of the Family Navigator Program — pressed its thumb to the pulse of southeast Ohio's epidemic of opioid addiction, and hasn't taken it off since.
In Parks Hall, Stacy Lee and Kristin Kerwin, registered nurse navigators who work with the Pathways to a Healthy Pregnancy program, show how that pulse continues to beat with pressing, unmet needs. More than half of their clientele has suffered from opioid addiction, Lee said, though they assist women who are not drug-addicted as well.
The Pathways initiative is run through the Family Navigators team, and it's where Lee, Kerwin and Meeks connect a web of resources with Medicaid-eligible, at-risk pregnant women. The aim is to ensure that they receive the care necessary to deliver and raise a healthy baby, minimizing that child's risks for trauma or being born addicted to opioid drugs, also known as neonatal abstinence syndrome.
The nurse navigators link pregnant women to services such as medication-assisted treatment if they are suffering from addiction. Lee and Kerwin also follow the women to many of their medical appointments and visit them after their baby is born, all while addressing the social determinants of health that clients might be facing.
During a client's intake, Kerwin said, they will also complete an Adverse Childhood Experiences survey.
The registered nurses have grown frustrated together, cried together and celebrated the smallest of victories together, Meeks said.
The program's nurse navigators manage the caseload, while Health Recovery Services provides counseling and OhioHealth O'Bleness Athens Medical Associates assists with obstetric care and medication-assisted treatment.
Because of the Maternal Opiate Medical Support (MOMS) pilot project in Ohio — primarily initiated to prevent further diagnoses of neonatal abstinence syndrome — Athens was one of four locations to receive grant funding to create the collaborative team. But the care model in Athens was mostly in place beforehand, Dr. Jody Gerome, who practices obstetrics and gynecology at AMA, said. The grant just helped to solidify existing relationships.
With more than 100 babies hospitalized for NAS in Athens County from 2011 to 2015, county officials couldn't sit on their hands and wait, Gerome said. And though the MOMS grant has since expired, the team has continued its work. About 12 percent of the 500 babies delivered at AMA each year are born to opioid-addicted mothers, Gerome added.
From January 2015 to January 2017, Lee said, the Pathways program helped more than 100 clients. It's just one method of improving the life of a parent and child, but it's been one that Meeks' team has found successful.
Meeks, too, has learned that if there's any route to pull a child out of a path toward an unhealthy lifestyle, it's in trauma-informed care.
"We're treating the addiction, we're doing all the other things to treat the outcome of that, but we're still doing a really poor job of adequately treating childhood trauma," Meeks said of the resources available locally.
The difference empathy can make
Normal can be defined a little differently for everyone, Allana Cottrill, a 26-year-old from Chauncey and a mother of three young children, said.
Growing up, it seemed normal for her father to be sticking needles into his arm, or for pills to be lying around the house.
Cottrill stressed that her childhood was happy. She was never totally conscious of her father's opioid addiction until he died from an overdose death when she was 10 years old. But her children will know their grandfather died of a drug overdose.
"Tell kids what they need to look for," Cottrill said. "I had no idea that it was not normal for my dad to have all these pills and stuff, or to be giving himself shots — which is what it looked like — that's just how we live our lives."
That subjective definition of normalcy is key in trauma-informed care. Many do not recognize that it's a luxury to feel safe in your own home, Dr. Joseph Bianco, an assistant professor of social and behavioral medicine in HCOM, said.
Working in the residency clinic, he said he would sometimes see clients who, during their intake process, would not report trauma even if they had been physically abused or had been part of the foster care system.
"The reason that they're not making the connection is not because they're not under-reporting, it's because that's the only normal that they knew," Bianco, who has researched behavioral health interventions in primary care and the effects of childhood trauma on adult health, said.
So, faced with a generation afflicted with trauma as a result of the opioid epidemic, Sausser said it's critical that the state allocates funding to address it. That's why the grant for children services agencies from the Attorney General's office is so important, she said.
That's also why collaborative models like Meeks' tend to work better than those that operate in a bubble.
Meanwhile, Brandeberry is preparing for a field in which she'll often encounter people who have faced traumas of their own: emergency medicine. Though she was hesitant to tell her story to a room of first-year medical students, she's glad she did.
If a pediatrician or any other physician takes the time to delve deeper into their patients' home lives, the impact on children could be tremendous. Not only may children feel less alone, she said, they also might be connected with counseling or legal authorities if they feel unsafe.
"To go home and relax in your own house is something people take for granted," Brandeberry said. "It's just sad how many people are suffering."
Development by: Seth Archer / Digital Managing Editor