He cited code violations in seven apartments, five of which required smoke detectors to be repaired, replaced or installed, according to the Notice of Violation. Mullins scheduled a reinspection of Building 12 for Feb. 27, 2017, at 9 a.m. to ensure that the violations were corrected.
Sixteen hours before the scheduled reinspection, Athens Fire Department was dispatched to the Carriage Hill Apartments. Building 12 was on fire.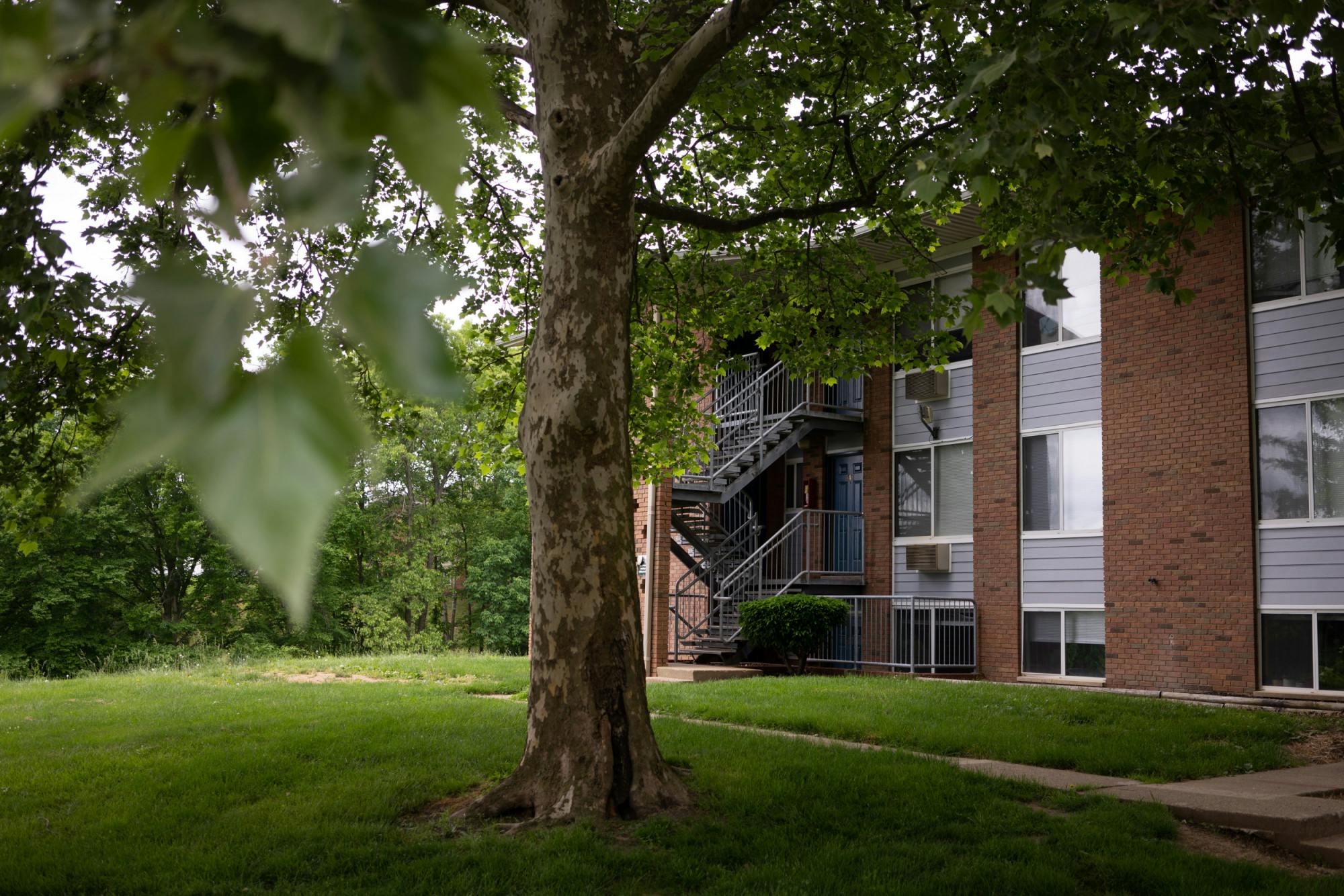 Joe Timmerman
One of the Campus Heights Apartment buildings (formerly called Carriage Hill Apartments) on Tuesday, May 24, in Athens, Ohio. A fire on Feb. 12, 2017, left Building 12, which stood on the west side of the complex, uninhabitable and eventually led to its demolition.
Several occupants had to be removed from the building, according to the Athens Fire Department report filed Feb. 26, 2017. No casualties were reported. The cause of the Carriage Hill Apartment fire was determined to be electrical.
Athens Code Enforcement Office's 2017 Annual Report claimed "the safe evacuation" of Carriage Hill Apartment residents could be attributed to the office's oversight. That year, the office cited an increased number of properties, including Building 12, for code violations, leading to a greater need for reinspections. The office attributed the increase in reinspections to "improved safety of rental units" in the annual report.
"This was apparent in the recent Carriage Hill fire, where the week before rental inspections had just been conducted," the 2017 Annual Report said. "It was noted that all the smoke detectors were in operation."
However, there is no official record that the five cited units in Building 12 had functioning smoke detectors at the time of the fire. Mullins was scheduled to reinspect Building 12 on Feb. 27, but never could because the building was so heavily damaged by the fire.
To Solveig Spjeldnes, 1st Ward representative on the Athens City Council, the fire that destroyed Building 12 is a symptom of a larger problem: Enforcement of the city code can fall short in protecting tenant safety.
"I don't know why we care if the renters took their trash out or not," Spjeldnes said. "That's going to change from year to year, possibly from month to month. It seems sort of irrelevant. Whereas, 'Oh, the (landlord) didn't bother to fix their electrical wiring and so the place burned.' That's really important."
The Athens Code Enforcement Office "strive(s) to promote and maintain a safe and desirable living and working environment throughout the city," according to its 2020 Annual Report. However, an open code enforcement officer position and "not very effective" penalties for landlords to remedy code violations create challenges for the Code Office to ensure safe living conditions in rental properties.
Limited staffing
The Athens Code Enforcement Office, located at 28 Curran Dr., is situated within Athen's West Side neighborhood. It is a rectangular structure with a well-kept lawn. Inside the office, sliding shelves contain inspection reports for more than 5,300 rental units in the city of Athens.
Joe Timmerman
The Office of Code Enforcement is located at 28 Curran Drive alongside the Athens Water Department on Tuesday, May 24 in Athens, Ohio.
Code Enforcement has many duties, but rental inspections require a significant amount of its time because the office aims to inspect each rental property yearly. That goal requires each code officer to conduct between five and 15 rental inspections per day.
Yet, for over a year, the Athens Code Enforcement Office has been operating with a vacant officer position.
Athens Code Enforcement Director David Riggs said because of understaffing, the three current code officers will not be able to inspect all the Athens rental units this year.
For six-months, properties were not inspected due to the COVID-19 pandemic. The lack of staff further contributes to this delay.
"We'll get to about 75% of (rental) units," Riggs said. "We are trying to concentrate on the units that have not undergone an inspection in more than a year."
If properties fail their routine inspections, code officers must then conduct a reinspection approximately a month later. Some properties undergo multiple reinspections.
The need for reinspections is so common that, according to the Code Enforcement Office's 2018 Annual Report, the entire fourth week of every month was spent completing reinspections from the previous month.
From late 2018 to early this year, 23% of properties failed their inspections. 42% of properties passed, and a majority of the remaining properties were not able to be inspected due to the COVID-19 pandemic, according to data from the Code Enforcement Office.
Lydia Colvin
The number of rental reinspections outlined in the 2020 Code Enforcement Office's Annual Report varies between pages, which the office attributes to data taken from the wrong row. However, the office confirmed via email that the data on page 10 were correct.
Common code violations
Common reasons for inspection failure include broken outlets, smoke detectors and bathroom fixtures, according to previous Code Enforcement reports and Athens Code Enforcement Director David Riggs. Riggs also said those are sometimes due to tenants' actions. If a tenant unintentionally sets off a smoke detector, they might turn it off by disconnecting the device. If the tenants do not re-install the detector, Riggs said, they are not only putting their unit at risk of receiving a code violation, but they also risk getting hurt.
According to the 2018 Annual report, Code found that 5% to 7% of the approximately 28,000 inspected smoke or carbon monoxide detectors were disconnected by occupants.
"The tenants really need to take a little responsibility for themselves," Riggs said. "They're actually sacrificing their safety when they disconnect those things."
Other reasons for inspection failures have included carbon monoxide leaks and bug infestations, but they are less common.
"In those cases, there really isn't much for the tenant to do," Riggs said.
The Ohio Revised Code establishes that it is the landlord's responsibility to "make all repairs and do whatever is reasonably necessary to put and keep the premises in a fit and habitable condition."
Other responsibilities of the code enforcement office
Along with rental inspections, code enforcement officers are tasked with overseeing permits for the zoning, housing and building code, licensing and registration for contractors, vendors and peddlers, and nuisance complaints, according to the 2020 Annual Report.
Riggs said even though the inspections are conducted once a year, the code office responds to complaints from residents, renters and others as they are received.
In 2014, the amount of complaints/investigations totaled 88, while from 2016 to 2019, there were anywhere from 814 to 973 complaints filed yearly, according to the 2020 Annual Report. In 2020, 558 complaints were filed with the code enforcement office. These complaints included housing, graffiti, solid waste and other issues.
Focus on rental inspections and having a limited staff "results in the Office of Code Enforcement operations being complaint-driven," according to the agency's 2018 Annual Report.
Damon Krane, Athens renter and housing justice activist with United Athens County Tenants, believes the complaint-driven operations of the office perpetuate an ineffective cycle.
"If their office is complaint-driven, what I think this suggests – and, this has been my experience, too – is that if a tenant complains about conditions and gets Code Enforcement to come out, that's when Code Enforcement actually conducts a more thorough inspection," Krane said. "The only way they can have time to conduct more thorough inspections in response to complaints is if they don't spend time on everything else. That doesn't seem like the best way to enforce the city housing code."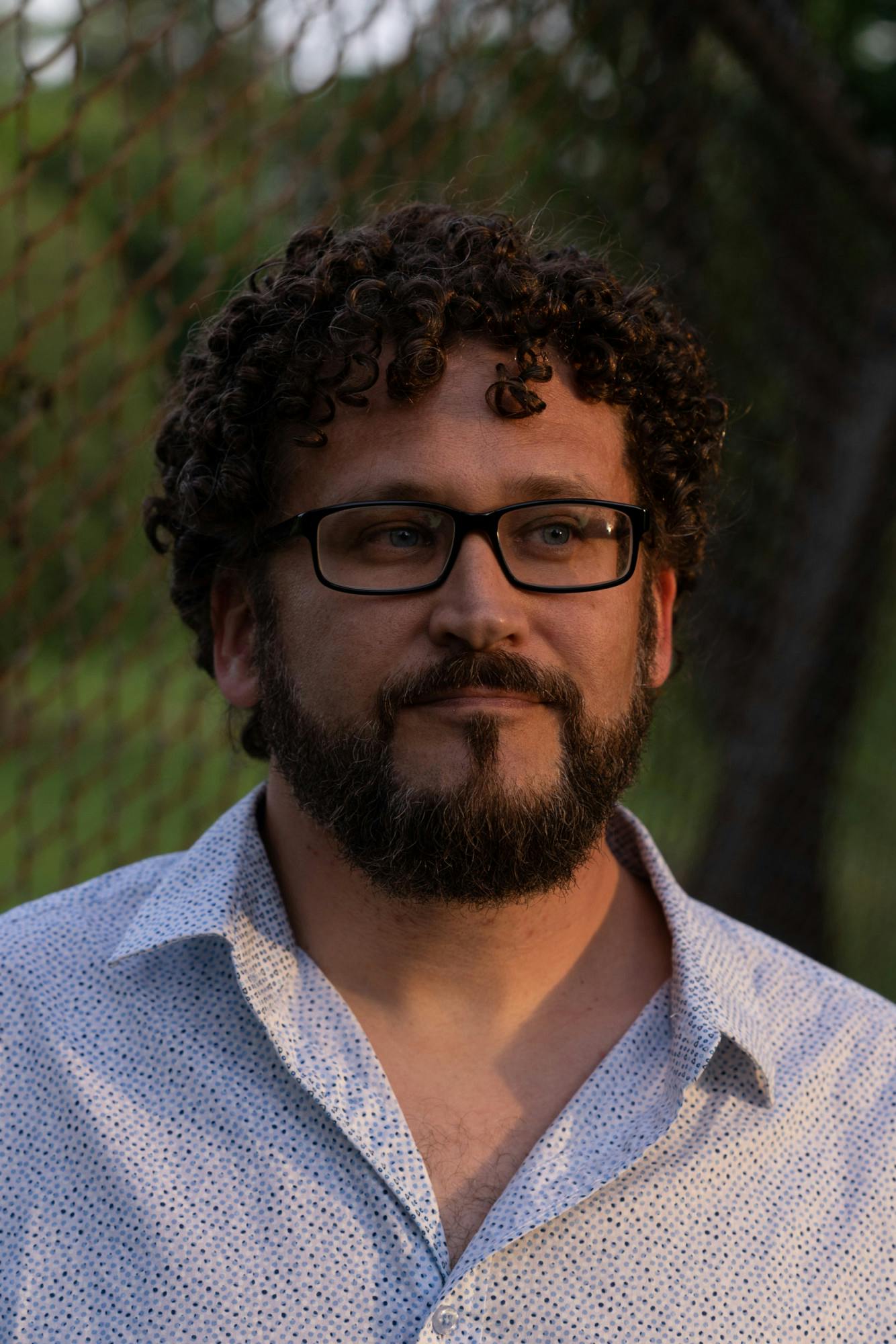 Joe Timmerman
Damon Krane, a founding member of United Athens County Tenants, stands in front of the West State Street Cemetery alongside 56 First Street, a housing unit he rented for six months in 2008, on Wednesday, May 25, in Athens, Ohio.
Riggs said the Code Enforcement Office will do "special inspections" if there is a complaint, but students often call as a last resort.
"We really want the students to know that they can contact us if they have a problem," RIggs said. "We typically get them this time of year as the lease is ending. Students will get frustrated and call us as a last resort where they really should have called us earlier."
For tenants experiencing problems with their rental unit, Riggs suggested tenants call their landlord first. If the issue is not fixed within a week or so, Riggs said, the tenant should call the Code Enforcement Office to file a complaint and request the agency conduct another inspection.
Limited penalties for code violations
Penalties for landlords who do not keep their rentals up to code are limited. In 2019, Athens City Council voted in favor of an ordinance that increased the penalty for continually unaddressed code violations.
Property owners, their agents "and/or the occupant(s), as appropriate" have 30 days after a notice is issued to correct cited violations under Athens City Code Title 29.02.03, section D. If those 30 days pass and violations have not been corrected, the code office will issue an "order to comply," which grants violators another 30 days to correct the violations before the code office can "institute appropriate proceedings" in court.
Activist and renter Damon Krane believes Athens' month-long correction period is too lengthy because tenants can be endangered if housing conditions are not up to code. Law enforcement's response times for code violations are much slower than for other crimes; however, Krane noted similar unsafe conditions are created by all infractions.
"Say APD (Athens Police Department) pulls you over for speeding; the city doesn't give you two months to slow down before they issue you a ticket," Krane said. "They find you violating the law, and they cite you for it."
If after 60 days the violation is not corrected, the case gets referred to the law office. However, there is no guarantee that violators will be found guilty. Athens City Code Title 29.09.02 establishes that first-time offenders will be "deemed guilty of a minor misdemeanor and fined not more than $100." The more often the offense is committed, the more severe the punishment. The fourth offense in a two-year period "shall be deemed a misdemeanor of the second degree, punishable by not more than 90 days in jail and a fine of not more than $750.00."
It is unclear, however, if such penalties create substantial enough incentive for violations to be corrected, and if they are enforced in a way that would deter continuous violations.
"If (landlords) don't care about the fine because it's the cost of doing business and it doesn't matter, then that's not very effective," Councilwoman Solveig Spjeldnes, D-1st Ward, said. "So it needs consequences. And, enforcement is a huge issue. One of the challenges is that if you don't have an effective enforcement mechanism, you're kind of wasting your time."
Krane believes legislative change can be the first step in better enforcing safety standards in rental housing units.
"We need code enforcement to be adequately staffed, which means we need the city to devote more funds to code enforcement – City Council specifically," Krane said. "And, we need the city law office to also actually enforce the housing code."
Implications of an updated inspection process
The primary purpose of inspections is to ensure that rental units are safe and habitable. However, time constraints make it difficult for Athens' three code officers to thoroughly inspect each property they are assigned to.
In 2017, the office reviewed its internal operations and updated the inspection procedures to maximize efficiency, according to the 2017 Annual Report. The efforts appeared to be successful, as the time it took to complete the inspection cycle was reduced from 18 months to 12 months.
Current renters question the ability of city code inspections to detect safety issues beyond the one-page checklist.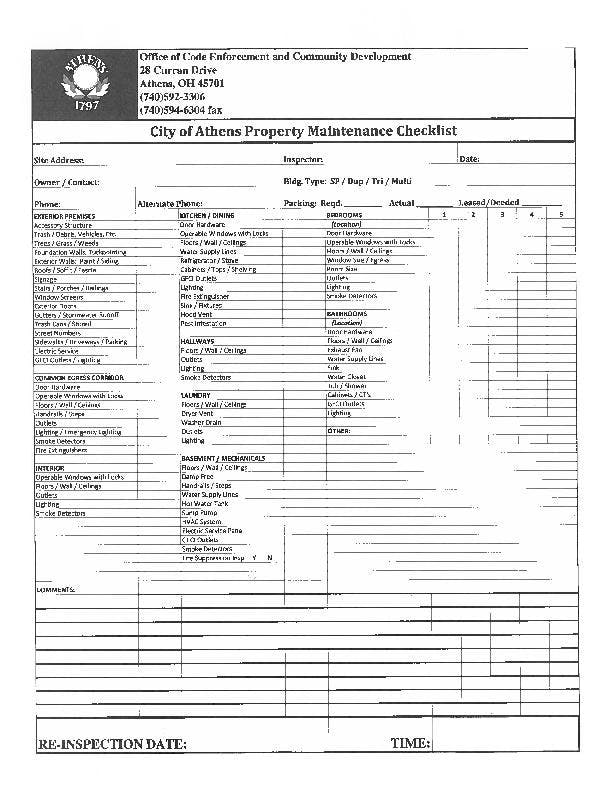 Athens Office of Code Enforcement and Community Development
The City of Athens Property Maintenance Checklist is one page long and presents inspection guidance such as "Refrigerator/ Stove" and "Fire Extinguisher."
"Certainly in my experience, and in the experience of all the Athens tenants that I've ever spoken with, the typical, regularly scheduled inspection lasts less than two minutes and consists of inspectors just pushing the test buttons on smoke detectors," renter and United Athens County Tenants activist Damon Krane said.
Jeremy Dixon, a previous landlord, contracter and renter in Athens County, purchased a house that had been registered as a rental property. He intended to fix it up and utilize it as a rental again, but decided not to because of limited safety oversight from the code enforcement inspection.
"I went to the code office and I got the compliance sheet," Dixon said. "And the compliancy sheet contained a lot of cosmetics and did not address critical safety features. So, I got disillusioned with the Code Enforcement Office at that time."
Different residential fire, similar uncorrected code violations
The volume of complaints, violations and reinspections statistically suggest that a large portion of renters in Athens are affected by reported unsafe housing conditions. Anecdotally and historically, inhabitants of rental housing have told a similar story.
Until spring of this year, a strand of yellow caution tape lay across the yard of 60 Central Ave., reminding Athens West Side residents of a structural fire that scorched the property's interior on Oct. 14, 2021.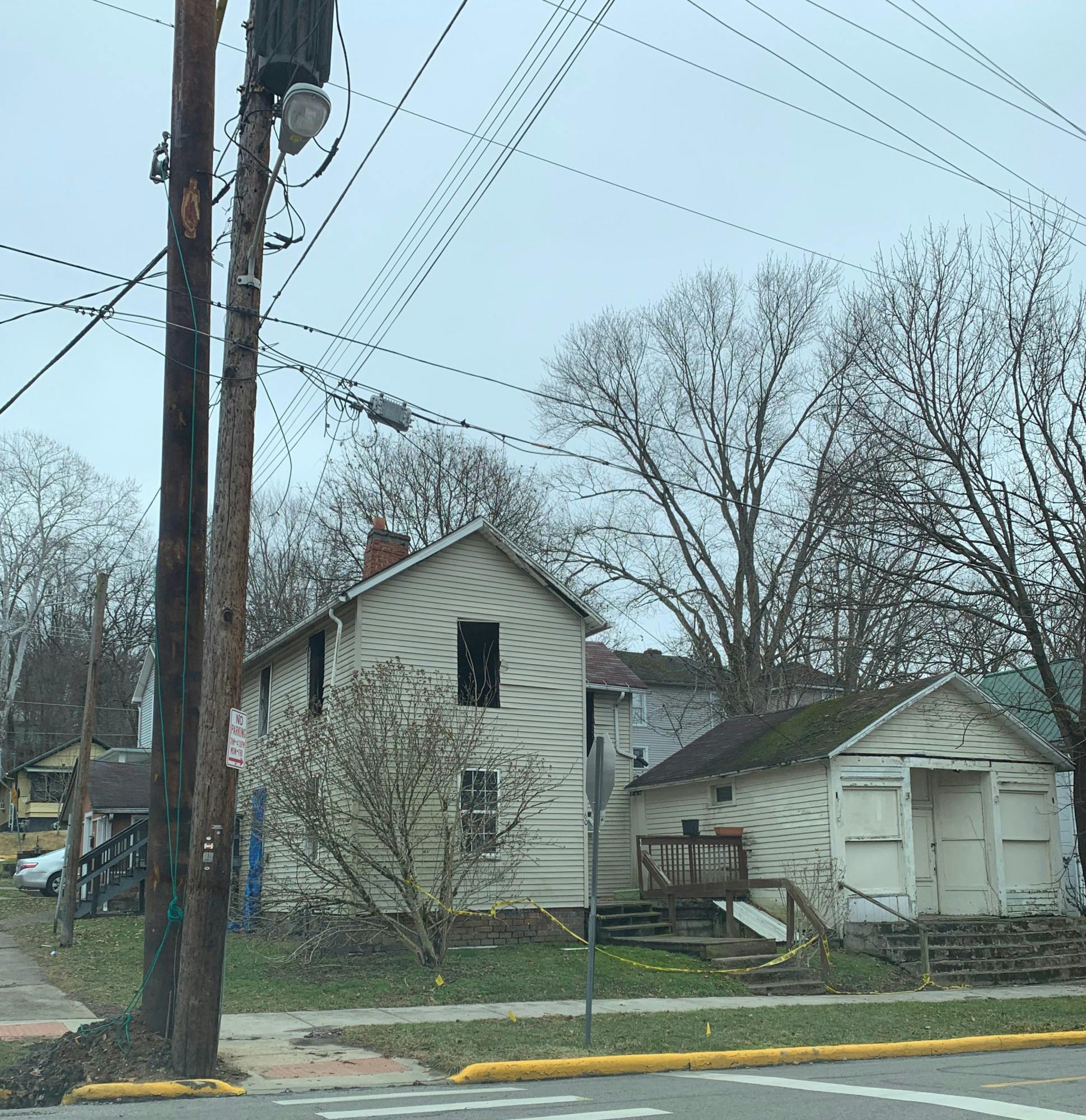 Isabel Nissley
60 Central Ave. was a rental property before a fire scorched the house during fall 2021. The dilapidated house remained uninhabited for approximately six months and is located a few blocks away from the Athens City Code Office.
Joe Timmerman
Yellow caution tape and orange traffic cones surround the empty plot of land at 60 Central Ave. on Tuesday, May 24, in Athens, Ohio.
Months before the fire, Athens City Code Officer Brian Zoulek conducted a routine inspection of 60 Central Ave. on June 17, 2021. He cited the rental property for 14 violations of the city code. Notations included "install ten year smoke detectors," "clean out the basement from old brick" and "repair foundation walls as needed," according to the Notice of Violation.
The house's conditions were also noticed by its tenants and visitors, including a fellow renter on the West Side of Athens. He spoke on the condition of anonymity for fear of retribution against his friends who formerly rented the 60 Central Ave. property and himself.
"I was friends with the people who lived in that house and I've been in that house quite a few times," the friend said. "And (the former tenants) had taken me down in the basement one time, and was like, 'Look at this dude. Like, my house is gonna fall down.' And I went down into the basement and yeah, I mean, bricks were actively falling off of the wall and their foundation was about to fall over. It was very unsafe."
When Zoulek visited the property for a second time, three months after the initial 2021 inspection, he observed that the violations had not been corrected. Zoulek issued then-Property Owner John Rinaldi an Order to Comply on Sept. 8, 2021.
One month and six days later, the Athens Fire Department was dispatched to a report of a structure fire on Central Avenue. Just after midnight on Oct. 14, fires were found in the kitchen and attic of 60 Central Ave., according to an Oct. 19 Facebook post from the Athens Fire Department.
There are no records that indicate the code violations had been corrected at the time of the fire.
"Am I surprised? No," the friend of the former 60 Central Ave. tenants said. "But couldn't Code have done something different?"
Authority of code enforcement officers
The Athens Code Enforcement Officers are tasked with guaranteeing safety within the scope of municipal code and zoning laws. On the state level, the Ohio Board of Building Standards has greater authority to address structural issues.
"The way it works is that typically you would have somebody who's a certified building inspector who can do structural inspections," Riggs said. "In smaller communities like Athens, we rely on the state building department to do that for us."
A building inspector would have the training to evaluate electrical, plumbing and HVAC systems along with making sure the building is structurally sound and American Disabilities Act compliant.
Leadership in the city of Athens, including Riggs and Andy Stone, service safety director for the city, planned to explore the viability of having a building department in the city of Athens over the next year.
"It makes more work for us, but I think it would end up making the community safer to have an actual building department here where we could do (structural inspections) rather than relying on the state to do it," Riggs said.
Reflecting on the Carriage Hill apartments, Spjeldnes wondered if a building inspector could have detected electrical problems and prevented the fire. She said she remembered an employee of the Athens Fire Department saying, "We couldn't have found it because it was literally inside the wall. But that brings up the point that in our community we don't have a building inspector. So if there were building inspectors that would not have passed."
Here's the back of the building. You can feel the heat from here. pic.twitter.com/IMLTlEmjZ8

— Bailey Gallion (@baileygallion) February 26, 2017
While the Code Enforcement Office is not the sole entity overseeing rental safety in Athens, it is the most involved in ensuring compliance with the city code. However, several Athens renters, housing activists and local politicians believe that there are inadequate protections for tenant safety.
"Unfortunately, I think it's only a matter of time until we do see a loss of life if our housing code remains in the state that it's in and if city code enforcement remains in the state that it's in," Krane said.