She likes the familiarity of the people along her routes. She appreciates being able to travel around the city on foot. And she is proud to work for the Athens Police Department.
But at the end of the day, being a parking enforcement officer is just a job for Foster.
"I work to feed and clothe my children," Foster said. "When I make people mad, I feel bad, but at the same time, I'm doing my job."
In Athens, five officers are tasked with enforcing the 35 parking ordinances written by the city council. According to the Code of Ordinances, Athens' parking regulations promote safety, aid businesses, ensure equitable access to public parking spaces and keep traffic flowing.
Resident frustration
When Meadow McCarthy contracted COVID-19, safety became her primary concern. So, McCarthy, a former Franklin Avenue resident, quarantined at home to recover.
While quarantining, McCarthy did not move her car from the on-street space it was parked in. McCarthy feared that going outside would compromise her neighbors' safety.
After more than a week of quarantining, McCarthy finally went outside and found a ticket stuck under her car's windshield wiper.
McCarthy was cited for violating Athens' ordinance regarding continuous parking in the same location for more than 24 hours. She said the rigid enforcement of that regulation is incompatible with the uncertainty of people's lives.
"There's no leeway," McCarthy said. "And I think that the enforcement is just that—it's just enforcement. It's not about the point, which is to keep people safe on the roads and make sure that everybody has space to do what they need to do."
According to the city's parking FAQs, the purpose of the 24-hour rule is to allow all residents equal access to parking on city streets and to curb storage parking.
From August 2021 to August 2022, parking on the street for a continuous period longer than 24 hours was the fifth most common reason for issued citations, according to public records obtained from Athens Police Department. In total, 384 tickets were given to cars that violated the 24-hour rule.
McCarthy said that when she lived on Franklin Avenue, enforcement of the 24-hour rule failed to serve its intended purpose.
"It just made everyone more frustrated," McCarthy said.
Heavy enforcement on rental-filled streets
Most parking ordinances apply to public streets. People with driveways and garages attached to their homes do not have to worry about receiving a ticket for violating the 24-hour rule as much as people who do not have access to private parking spaces.
For example, West Washington Street is majority rental housing, not single-family homes. The higher-density population, coupled with limitations of the built environment, including hilly terrain and lack of driveways, cause many people to park on the street.
From Aug. 1, 2021, to Aug. 1, 2022, nearly 60 tickets were issued for violations of the 24-hour rule on West Washington Street, according to public records obtained from APD. Other rental-dominated streets saw similarly high numbers. Parking enforcement issued 36 citations on each Mill Street and North Congress Street.
During the same time, 10 24-hour violations were issued on Morris Avenue, which has a mix of rental and owner-occupied houses with driveways built beside nearly every house.
Noli Brazil, a spatial demographer at the University of California, examined similar ticketing disparities in Los Angeles in a 2018 study. Brazil found that areas with higher percentages of renter-occupied housing units and 20 to 35-year-olds experience greater parking ticket rates.
Parking revenue and the city's general fund
Enforcement of ordinances via ticketing is not the only concern of Athens' parking enforcement operations. Annually, the department generates hundreds of thousands of dollars of revenue for the city. In 2021, collections from street meters, college lot meters and tickets yielded $656,575.91, according to the Athens Police Department Annual Report.
That money is deposited into Athens' general fund, Sam Crowl, City Council Finance and Personnel Committee chairman, said.
Crowl said the general fund is used to pay for repairs to city infrastructure, code enforcement, postage and other expenses. City employees' salaries and the APD are also primarily supported by money from the general fund.
"I think (what) a lot of people don't understand is we're not asking for you to put money in the meter just to have money for whatever; it's to improve city streets, it's to improve city buildings, it's to improve anything," Foster said. "So by putting money into the meter, you're basically helping Athens stay repaired."
Money collected from parking garage meters is added to a separate, proprietary fund that is used to pay for garage maintenance. During 2021, $78,308.32 was collected from the parking garage.
"All the revenue that is earned in the parking garage goes back to the maintenance of the parking garage itself," Crowl said.
Athens parking enforcement generated more money for the city before the pandemic. On average, $900,000 of parking revenue was paid into the general fund annually. In some years, the total would be closer to $800,000. Others it would reach $1,000,000, according to data in the Athens Police Department Annual Report.
Foster joined the Athens parking enforcement team in December of 2021 and attributes the relative revenue consistency to the routine nature of her job. Almost every day, Foster clocks in at 8 a.m. and clocks out at 5 p.m. During her shifts, she patrols a set route. So do the other officers who work on foot.
"We don't have a quota," Foster said. "We do not have to make any kind of quota."
Claims of undeserved ticketing
For commuters like Hannah Fowler, a graduate student studying visual communications, the lack of parking options is a constant struggle.
According to the 2021 Census, approximately 25,000 people live in the city of Athens. Foster estimates there to be at least 250 spaces in the city parking garage and 500 metered spots.
Although she has a commuter pass through OU, Fowler sometimes will park in the city parking garage, which is closer to her classes, due to the weather or flare-ups of her chronic pain.
During Spring Semester, Fowler began to receive expired meter tickets in the parking garage, despite still having time on her meter through the ParkSmarter app, she said.
Since April, Fowler has received three expired meter tickets in the parking garage that she believes were issued unfairly. A few months ago, Fowler said she was given a ticket at 3:15 p.m., even though her meter was paid through 6:24 p.m.
"It begs the question for me: Are they even paying attention to the meters or the app?," Fowler said. "Or are they just writing tickets as they feel? Or, is there some sort of malfunction with the way the app works in correspondence with computers?"
Officers can check if a meter is expired in two ways: by the red light on the physical meter or by the data provided to them on their handheld devices that connect to the Park Smarter app, Foster said. If both sources show that a meter is not paid, the enforcement officers can write a ticket for an expired meter.
Caleigh Russell, a fourth-year studying psychology, also received a ticket when her meter was paid.
"I paid on my phone and because (the enforcement officer) didn't see me visually pay, I got a ticket," Russell said.
Russell successfully contested her ticket. After calling the Parking Enforcement Office and explaining her situation, the ticket was voided.
Officer forgiveness and officer error are two common reasons for ticket voiding, according to a representative of APD. Parking enforcement receives reports from people who claim they received a ticket undeservingly daily. The officers who issued the parking ticket have the ability to decide whether those tickets should be voided or not.
Fowler tried to contest her most recent ticket at the police station, but she was told that the officer who issued it to her was not available. When the officer would be in the office, Fowler was not available.
Captain Ralph Harvey of the Athens Police Department said that if people, like commuter students, are not available when the issuing officers are, they can try to contact the office via phone. There is not an online process for ticket appeals.
"I mean, at the end of the day, it's a parking ticket, and it's not the end of the world because they're $15," Fowler said. "But the principle is the same. I didn't violate any parking rules. I was well within the allotted time I had paid for."
Parking tickets can be contested by calling the Parking Enforcement Office at (740) 592-3308 between 8 a.m. and 4:30 p.m. Callers can ask to speak with the officer who issued their ticket and discuss why they feel it should be voided, Harvey said.
If a resolution is not reached through conversation, the person who received the ticket can request that their case be taken to the Municipal Court.
"Parking enforcement officers and the parking clerk work hard to balance the needs of residents, employees, delivery people, students and others while fairly enforcing the parking regulations," Harvey said.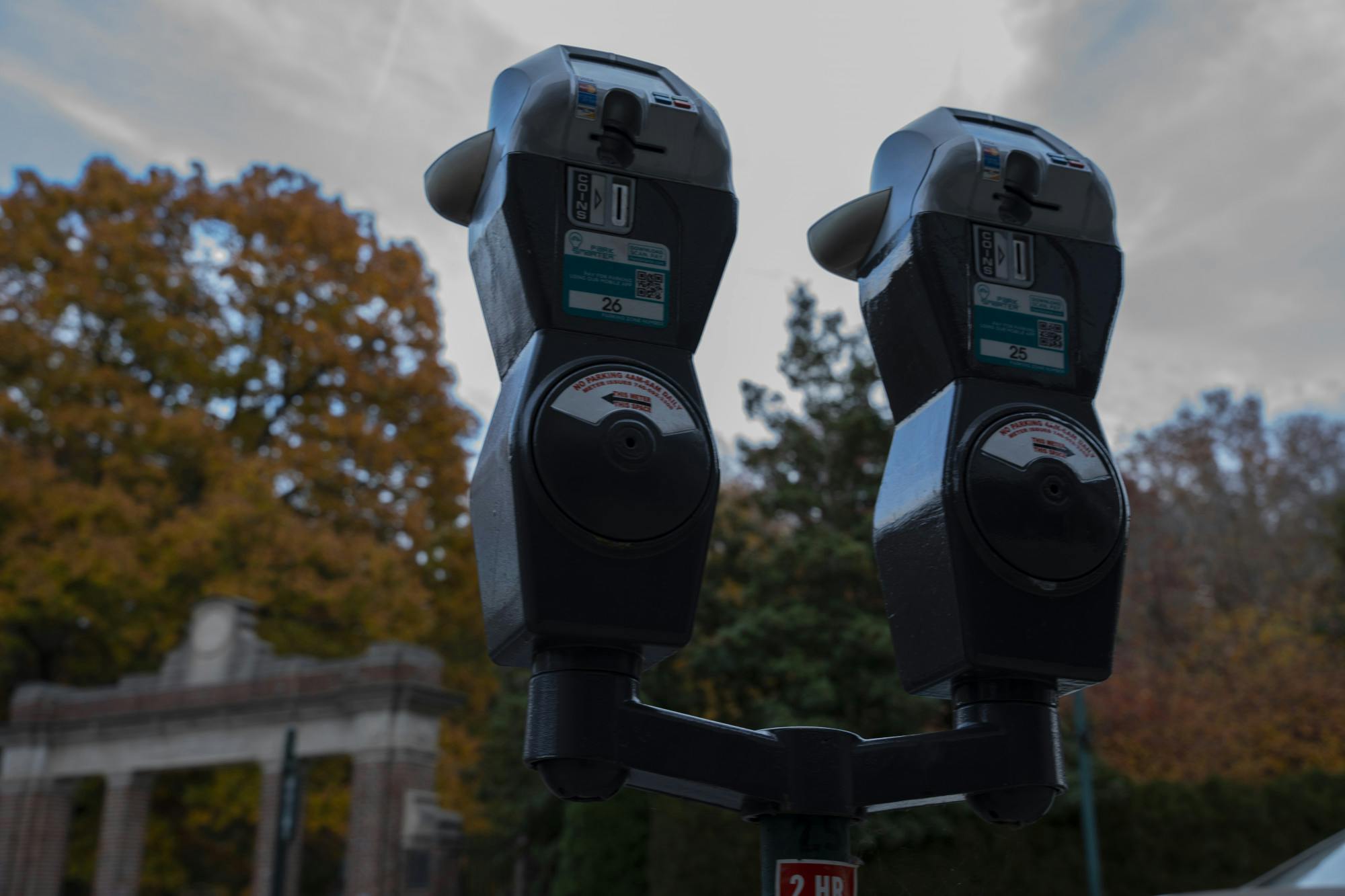 Megan Van Vlack | For The Post
Parking meter on Court Street in Athens, Ohio.
At the end of the day
Parking enforcement evokes a strong response from some, like McCarthy and Fowler, who feel that rules are not being enforced properly.
For others, like Athens Enforcement Officer Stephanie Foster, parking enforcement is straightforward and a necessary duty that she performs to help keep the city maintained.
"We're not here to make your day miserable," Foster said. "We're not here to make you mad. We're just here to help you understand the ordinances, we are here to enforce the ordinances. We're just like anyone else, we really are."