Depending on the decade, one could have attended the Roaring '20s Valentine's Day Massacre Party, Alpha Gamma Delta annual dinner dance featuring the University Stringed Orchestra or even be at a bar enjoying 30 cent beer bottles with a sweetheart.
In the Feb. 13, 1969, edition of The Post, the Roaring '20s Lounge in Athens posted an ad for a Roaring '20s St. Valentine's Day Massacre Party to "relive" all the excitement on the 40th anniversary of the 1929 St. Valentine's Day massacre in Chicago.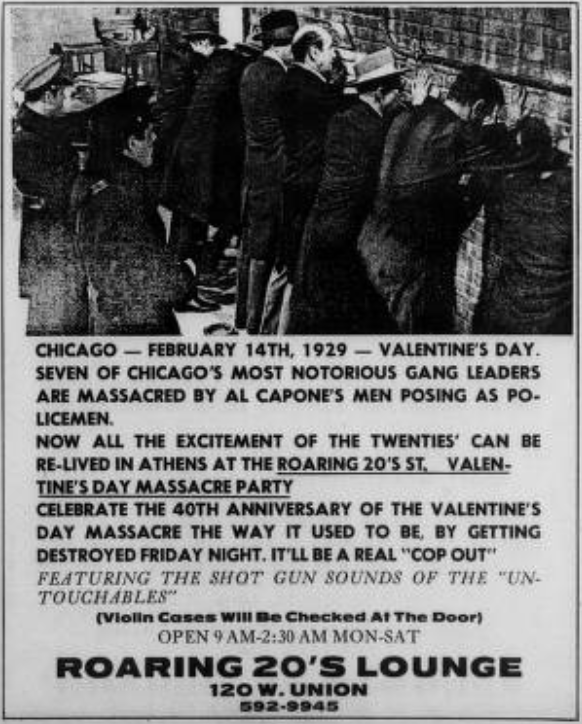 "Celebrate the 40th Anniversary of the Valentine's Day massacre the way it used to be," the advertisement read, "By getting destroyed Friday night. It'll be a real 'cop out.' "
The ad also states that violin cases were checked at the door.
"It sounds interesting, as long as no one actually, like, got hurt," Claire Keiser, a freshman studying actuarial science, said.
Going back to the beginning of the 20th century, as is listed in the Feb. 15, 1917, edition of Green and White, the Alpha Gamma Delta Valentine Dinner Dance was listed as one of the "most charming social functions of the college year."
The event decor featured lighting by red candles in crystal candlesticks and baskets of carnations. The University Stringed Orchestra and two featured soloists performed through the event. After a grand march, the dancing began for about 50 couples, Green and White said.
Many other formal Valentine's Day dances were held throughout the '40s and '50s, hosted by Ohio University Greek Life organizations.
Some students today still have an appreciation for events like these dances.
"I feel like our generation nowadays is so secretive… There's a lot of naysayers when it comes to events," Harrison Grady, a senior studying applied management, said. "Nowadays, people like the idea of having fun, they want the idea of having fun but sometimes they don't want to do the activities that are there. They're worried about what my friends might think about doing this...it'd be cool to kind of just dress up and have fun and a special day like that."
Comparatively, The Post on Feb. 14, 1964, listed that readers may want to take a "certain someone" out for a 30 cent bottle of beer. The "Never on weekends" column states all the bars in town were hosting the special.
Georgie Naumoff, a junior studying health services administration, said she would for sure take up the special.
"30 cents is a good deal," Naumoff said.
The rest of the Valentine's Day events listed include a swim meet against Cincinnati and a dinner at the "Campus Skillet."
While many activities were put on for students on campus, the Valentine's Day celebrations throughout the years were not only limited to those attending the university.
In February 1957, a man listed only as "Grandpappy" wrote his appreciation for a young woman who came to perform on the accordion and sing for "the boys on the ward" in Green Hill News. He thanked her, said that if he were 45 years younger he would send her a Valentine featuring the poem "Once In Awhile."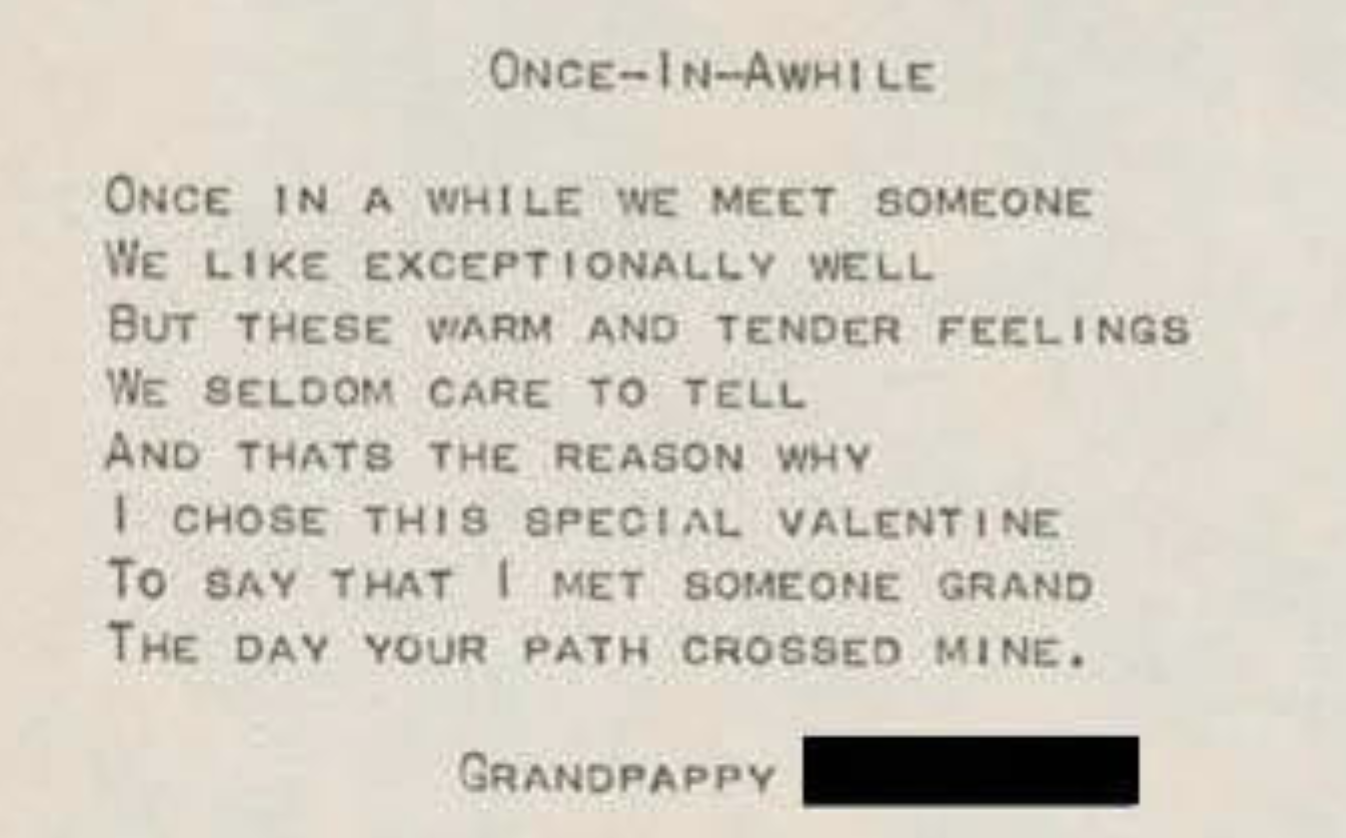 Some students spent their Valentine's Day not with their sweetheart, but visiting those who may not get out often. The students from Tiffin and Gamertsfelder Hall delivered Valentines to the residents of Kimes Nursing Home who were featured in the Feb. 15, 2006, edition of The Post.
Many students today still feel that this is important.
"A lot of people in nursing homes don't really have a lot of people to talk to," Lucia Aponte, a freshman studying geography and meteorology, said. "So it is a great idea [because] they don't really see many people."
Aponte believes he would most definitely be interested in participating in an event like that.
Looking back at the history of Valentine's Day shopping in Athens, students in previous years made some very different purchases than students often do today.
Members of Sigma Alpha Iota sold singing Valentine's Day calls, according to the Feb 13. 1970, edition of The Post. Options included "Happy Valentine's Day to you" sung to the tune "Happy Birthday" for 25 cents, or for those "big spenders", "My Funny Valentine" could be sent for $1.
In more recent history, according to an ad in the Feb. 12, 2002, edition of The Post, a $14 heart-shaped cheesecake from the now defunct Zachary's could be purchased as a special.
Today, students still find ways to spread love on and off campus, spending quality time with those they love.