Serrott, a first-year graduate student studying political science, was at a gay bar in Columbus.
The bar was filled with hope and was a fun environment, Serrott said. Drag queens were dressed as Hillary Clinton, and the early evening was festive, as election forecasts showed Clinton, a Democrat, ahead of now-President Donald Trump at the polls.
As results for the presidential election continued to trickle in at about 10 p.m., however, the energy in the bar shifted, Serrott said.
"It just turned really somber," Serrott said. "And everybody was just kind of shocked."
"With greater political power comes backlash ... There's value for some people in getting other people not to vote."

-Grant Stancliff, communications director at Equality Ohio
For voters across the country, the 2016 election ushered in a new era of political advocacy and participation. The 2018 midterms saw an 11% increase in voter turnout from 2014, according to the U.S. Census Bureau, but not everyone has been able to take part in the newfound political frenzy.
Voters who are a part of the LGBT+ community are facing voter disenfranchisement across the country and in Athens. From trouble with legal documents to unresponsive representatives, the growing block of voters is also facing a growing number of roadblocks on their path to the polls.
ROAD BLOCKS
The number of people in America who identify as a part of the LGBT+ community is growing. That growing group is also largely made up of young people who are becoming more politically active, Grant Stancliff, communications director at Equality Ohio, said.
"With greater political power comes backlash," Stancliff said. "There's value for some people in getting other people not to vote."
Many of those young people are college students, like Serrott. For those voters, living on a college campus can pose a challenge.
Serrott said he moved dorms during his first semester at Ohio University. He didn't think he had to update his voter registration for moving between buildings and ended up voting absentee since his polling location changed.
Serrott now makes sure to update his voter registration whenever he moves, but many students make the same mistake he did in 2012.
"As young people are trying to just build more and become more politically engaged, we're seeing a lot of attempts to try to … disallow students from voting," Stancliff said.
Around 21% of LGBT+ adults are not registered to vote, according to UCLA's Williams Institute. By comparison, only 17% of non-LGBT adults are not registered.
For transgender voters, problems also lie in having the documentation to vote.
In 2014, 27% of transgender citizens who had transitioned reported they had no identification documents or records that list their correct gender, according to Project Vote.
Stancliff said when someone is transitioning, voting can be something that is completely inaccessible or harder to get to.
"To get an updated voter ID card, you need a driver's license with your accurate name on it," Stancliff said. "And then to get that driver's license, you probably need to go to court to get your name legally changed. To get your name legally changed, in many cases, you might need a doctor to sign off on that."
LOCALLY LACKING
The LGBT community widely faces housing insecurity and has a disproportionate rate of homelessness, Serrott said. He also believes they rent at a higher rate.
To help combat that issue and others, Serrott said Ellie Hamrick is a "really good" local candidate for LGBT people.
Hamrick, a socialist running for an At-Large seat on Athens City Council, has made housing a prime component of her platform.
Hamrick also said she would be the only openly queer elected official in Athens if elected. In her opinion, housing justice is key to promoting freedom for queer and transgender individuals.
"These issues seem to be of no concern to my Democratic opponents, who are totally out of touch with working class people and who have done nothing to change the fact that Athens is the poorest and most unequal county in Ohio, even though their party has been in power for as long as many college students have been alive," Hamrick said in an email.
Hamrick has collaborated with mayoral candidate Damon Krane, an independent democratic socialist, to create "Operation Slumlord Smackdown." The plan looks to change Athens' renting policies by hiring more workers in the city code office, instituting rent control and more strictly enforcing city code, according to a previous Post report.
Serrott said he thinks state and local representatives aren't really in tune with the needs of the LGBT community. Serrott, who helps with the OU LGBT center's graduate student programming, also said he doesn't believe any local officials have reached out to the center on doing town halls or programs on LGBT issues.
Micah McCarey, interim director of the LGBT center, confirmed that the center has not had recent communications with city officials about voter registration.
THE ROAD AHEAD
Stancliff said 2016 marked some of the first intentional efforts to promote LGBT+ voter registration in Ohio. The election results were disheartening for some, Stancliff said, but have also resulted in the further mobilization of LGBT+ voters.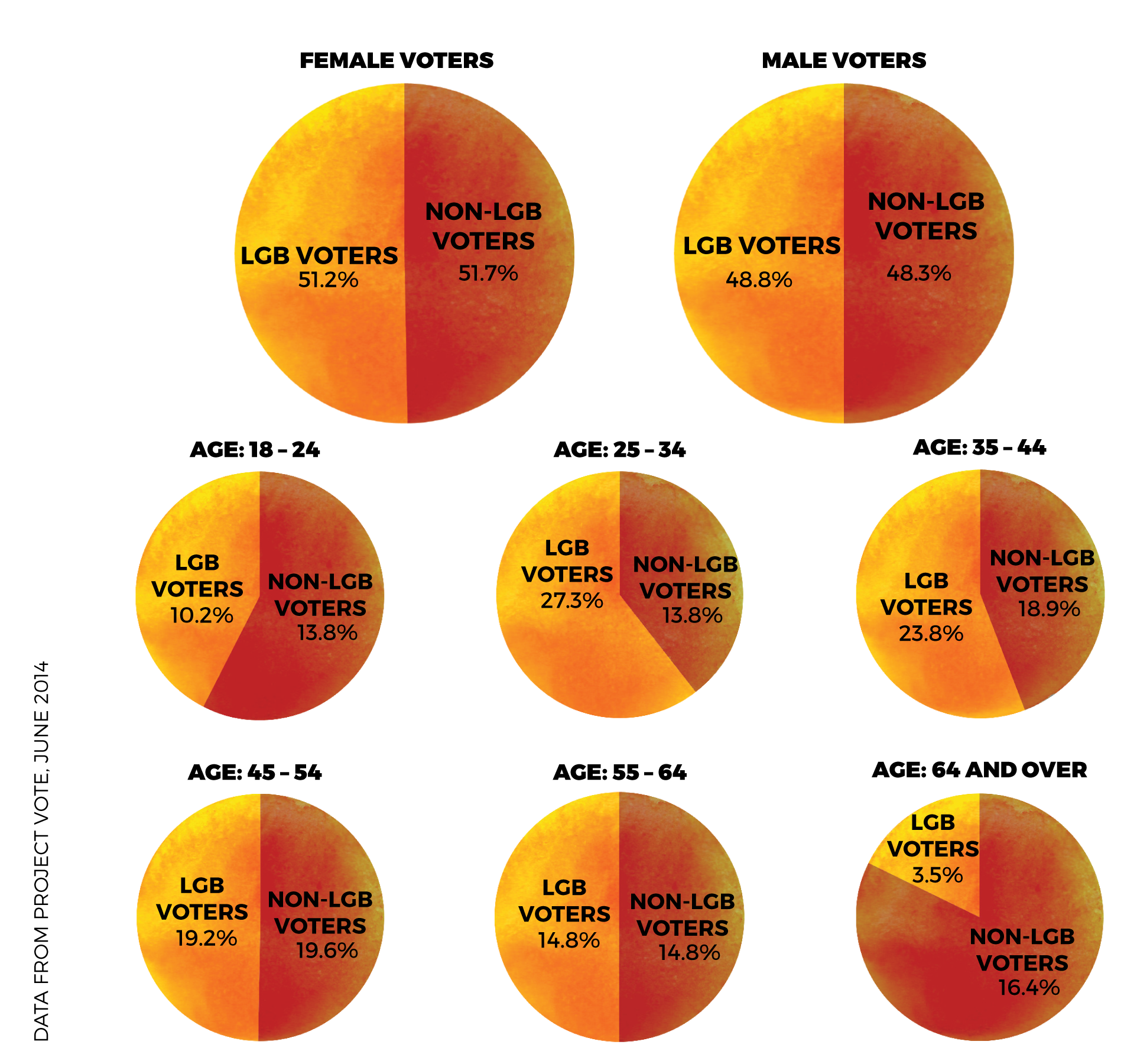 "For a lot of people … (Trump's election) can be scary and traumatizing and make one want to hide. And for other people, it can steal their resolve to get registered to vote," Stancliff said. "We're really trying to help people to channel a lot of that … existential frustration and fear from what (Trump's) administration has done, and really channel that into power by voting."
Equality Ohio is already looking at 2020 elections, Stancliff said. The group is hoping to help fuel voter registration efforts through a variety of platforms. Text messages, online registration and going to people's doors are all part of the organization's efforts.
Hamrick is hoping to make changes in Athens to help promote LGBT rights if elected. She'd like to mandate that all public, single-occupancy restrooms in Athens be labeled as gender-inclusive and that multi-stall, gender-segregated restrooms have signage posted. She said doing so would help show that all people have the right to use public restrooms regardless of gender expression.
"This is about the fundamental right of trans, nonbinary, intersex and visibly queer people to participate fully in our society," Hamrick said in an email.
Serrott would like to see more interaction between public officials and the LGBT community in Athens. That means extending the conversation beyond the OU's LGBT center.
"The LGBT Center here is a good resource, but it's not the only resource," Serrott said. "And frankly, it's just a university resource. So while we try ... to be involved in the outside community now, you can't reach everybody."
Serrott said the 2016 elections represent a shift in how people think and serve as a marker for politics moving forward.
"I think 2016 elections is one of those times where like, you ... remember where you were the next day," Serrott said. "My parents remember where they were when Kennedy was assassinated. It was one of those moments, I think — kind of monumental."