Led by the Ohio University chapter of the American Association of University Professors, the group stood silently before the OU Board of Trustees on Jan. 17, protesting what many believe to be unfair decision-making by OU administration regarding the university's budget.
The university released its "Fearlessly First" strategic framework in September 2019, which proposes ideas for how the university can keep up financially with fundamental changes affecting higher education, including declining enrollment numbers, changing technology and decreased state funding.
Among these proposals includes the shrinking of academic departments across the university, a move that has prompted outrage from faculty and students alike, who define the current situation as a crisis, like during the OU Fun Facts Protest that occurred last fall.
Others define it differently. At the Board of Trustees media availability meeting,Trustees Chair Dave Scholl said that the university will only find itself in a financial crisis if it doesn't change with the times. It might not be a budget crisis right now but could be in the future.
But as OU seeks to remain sustainable in the changing world of higher education, many faculty members feel that they are not being given a proper seat at the table.
"We are witnessing faculty not having a contract renewed. We're seeing documents about fundamental restructuring. We are hearing about programs for voluntary retirements of tenured faculty," OU-AAUP President Loren Lybarger said. "This feels like a crisis."
Last spring, the university asked the individual colleges to reduce their budgets by a collective $19.3 million over the next four years, citing issues like declining enrollment numbers and competition by for-profit universities and other alternatives to four-year universities, according to April Minutes from OU's Budget Planning Council.
Salary and benefits for all employees make up about 64.6% of all university revenue expenditures, according to the university's 2020 budget.
Members of OU-AAUP believe the need for the budget reduction can be primarily attributed to increased administrative spending over the past eight years, according to an OU-AAUP budget analysis.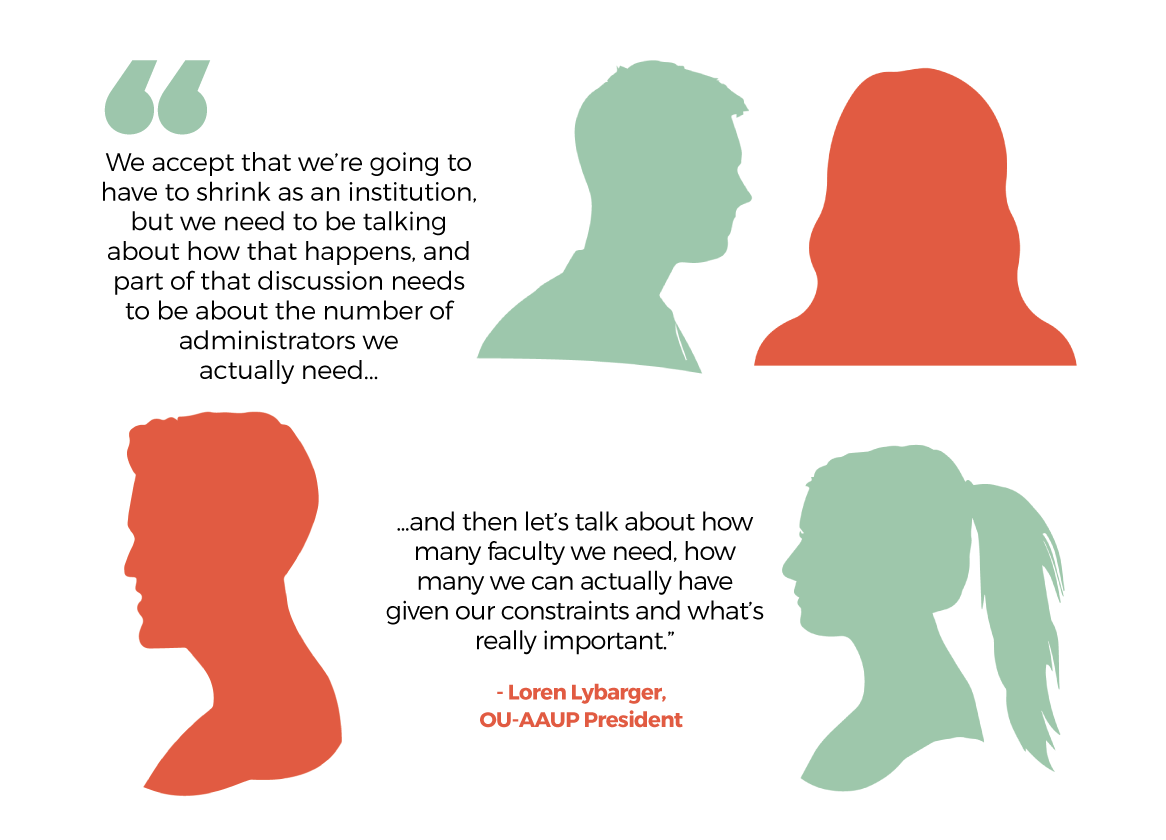 Since the late 1970s, the ratio of faculty to students has remained relatively stable, and faculty salaries have not seen an overall increase, according to the budget analysis.
Meanwhile, the ratio of administrators to students has dramatically increased since 2010, and the number of administrators has increased from about 800 to about 1,190, around a 45% increase, according to the budget analysis.
Lybarger said that faculty accept the reality of the current situation around higher education. The state has been cutting funding for higher education, enrollment is dropping and other universities are competing for the same pool of students, he said. But faculty are worried about how the university is choosing to react.
"We accept that we're going to have to shrink as an institution," he said. "But we need to be talking about how that happens, and part of that discussion needs to be about the number of administrators we actually need … and then let's talk about how many faculty we need, how many we can actually have given our constraints and what's really important …"
And with the growth of administrative positions, some faculty feel that they have lost power in the decision-making process.
"We are asking a basic question: How is it that we're firing faculty and seeking to shrink the size of the faculty while, at the same time, we see the administration expanding and administrative salaries at the highest level?" Lybarger said. "That doesn't compute. And, frankly, in my view, it raises a lot of questions about the kinds of decisions that are being made here."
Members of OU-AAUP believe that the university does not currently embrace the idea of shared governance, Lybarger said. This is an idea outlined by the national AAUP that gives faculty, who have authority over matters related to teaching and research, input in budget decisions and creating a strategic framework.
This includes giving faculty voting rights that allow them to affect budget decisions, especially as these decisions matter to their disciplines. In other words, shared governance allows faculty input to have "bite," Lybarger said.
That loss of power can be seen in things like the Budget Planning Council, an advisory body made up of faculty, administrators and students tasked with advising the president on budget issues, financial policies and funding priorities.
Joe McLaughlin, an associate professor who used to sit on the BPC, said that over time, the body has become less of a deliberative body where decisions get made and serves more of an information-serving forum.
"At certain points in the year, the Budget Planning Council is asked to take a vote and weigh in on things like tuition increases or fees for new master's programs. But it's not a place where there's a lot of debate and discussion," McLaughlin said.
The BPC, or any other faculty-involved budget committee, has never had the power to decide on things that are given significant portions of the budget, like student affairs or athletics, McLaughlin said.
"There's never a discussion about … those big budget areas in the university and the relative distribution of resources among them," he said. "The tables that we have seats at are really not the places where the important decisions are being discussed and ultimately made."
These decisions being made go beyond the discussion of the strength of faculty input, Lybarger said. They affect students' education, too.
"What does it mean to come in and get a liberal arts education? " Lybarger said. "Maybe you send your kid here for something else … If it's a top-down model, whatever the administration and the Board of Trustees decides is marketable at that particular point in time."
Lybarger also said that the current changing environment of higher education is a chance for the university to reassess its educational programs.
"What about a strategic investment in the faculty that are here and in their programs to reinforce the strengths of this university as a liberal arts university in Southeastern Ohio and Appalachian Ohio?" Lybarger said.
After the Friday morning protest ended with faculty blowing a whistle and leaving the building, OU President Duane Nellis said at the media availability meeting that the university makes an effort to take into account faculty input for any decision made but that making large budget decisions is a process that requires many different perspectives.
OU-AAUP will hold its next meeting at 4 p.m. on Jan. 31 in Bentley 306.